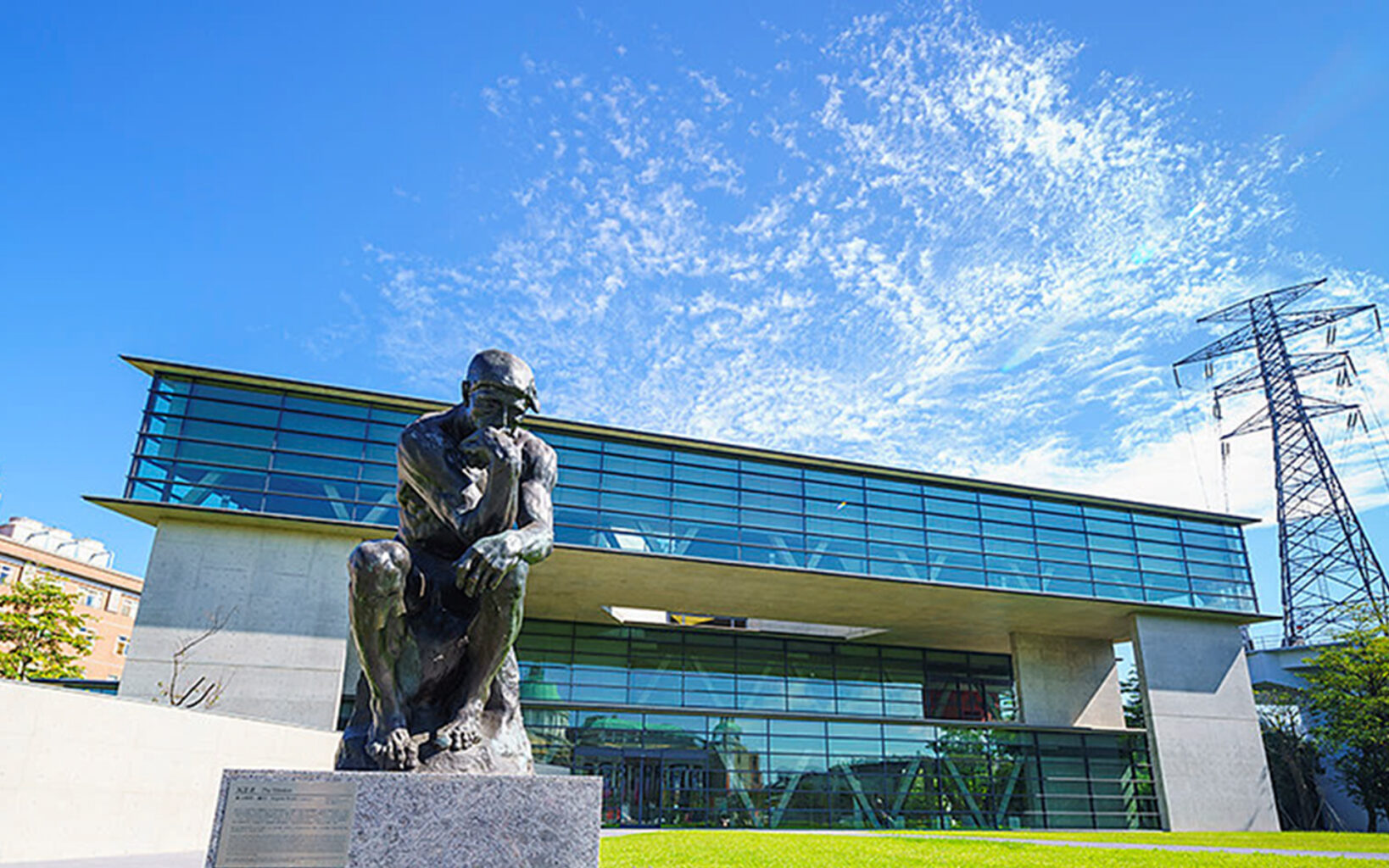 The Thinker statue is the work of the world-famous sculptor Auguste Rodin. Rodin and his students created multiple marble and plaster casts of The Thinker. There are currently 45 casts around the world. Among them, 21 were sculpted by Rodin himself and 25 were sculpted by the Rodin International Artists Foundation in 1998. The one located in the front plaza of the Asia University Museum of Modern Art was sculpted by Rodin, so it is particularly valuable. At direct auction prices, Rodin's artworks are worth close to hundreds of millions of dollars. In terms of artistic value, The Thinker statue is an immortal masterpiece. But even the most precious artworks are affected by weather conditions. Marble, in particular, is susceptible to stains caused by water, oil, and liquids. The stains are difficult to remove and can affect the stone permanently. 
Art conservator Shun-Jen Tsai and his team restored the statue with exceptional skills
Asia University Museum of Modern Art hoped this great statue could appear in its best light for all students, faculty, and visitors. Therefore, they commissioned TSJ Art Restoration, a renowned art restoration team in Taiwan led by Shun-Jen Tsai, to conduct the restoration assessment and restoration work. Thanks to the excellent restoration skills of Shun-Jen Tsai and his team, The Thinker was restored to its original condition. However, restoration is only the first step; how to maintain it afterwards is a more important issue. TSJ Art Restoration recommended using our coatings because they can prevent the marble from losing its color and make cleaning easy. 
CHOOSE protects The Thinker Statue from weather changes
CHOOSE coatings have excellent weather resistance. By forming an actual film thickness on the surface of the substrate, they prevent stains from contacting the surface, keeping the substrate in its best condition. In addition, after years of research and development, CHOOSE has developed coatings that won't discolor under long UV exposure and can retain transparency while providing strong protection. The coatings have passed the 1008 hours of salt spray test by SGS, proving that the protection effect can last for more than ten years in the natural environment. Therefore, using CHOOSE installation art coating on The Thinker statue effectively protects its marble from external forces such as sunlight, acid rain and strong wind, thus avoiding the problem of discoloration. The museum director spoke highly of CHOOSE coatings. In addition to the protective effects mentioned above, he also likes the self-cleaning property, which takes advantage of Taiwan's rainy climate to give the outdoor sculpture a certain self-cleaning effect. This helps save a lot of money on cleaning and maintenance. 
Seeing is believing—CHOOSE provide the most authentic protection
Six months after working with TSJ Art Restoration on the coating treatment, we went to Asia University Museum of Modern Art for an inspection. The Museum told us that they are very satisfied because they don't need to worry about discoloration anymore and cleaning has become easy since then. We assured them that the effect would last for at least five years without the need for expensive and laborious refurbishment.  
Solving problems is what drives us to keep researching and developing
CHOOSE has the most professional R&D teams and research facilities. After understanding our customers' needs, we can provide them the best products and services. Solving problems for our customers is the fundamental reason why CHOOSE keeps making progress. 
CHOOSE provides great protection for the things you cherish by our transparent ceramic coatings.
If you want to know more information about our coatings, click on the link below and fill in the form. Our our service specialist will be in contact with you as soon as possible.