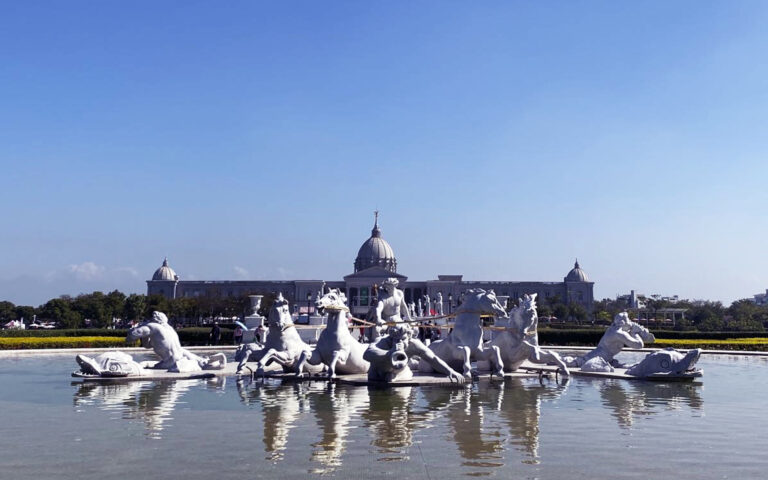 CHIMEI Museum is a private museum in Taiwan with one of the most comprehensive collections of Western art, musical instruments, weapons and natural history. Each year, the Museum attracts over one million visitors. The 9-hectare green park surrounding the museum is also a popular place for picnics during family vacations. In recent years, CHIMEI Museum has become one of the most popular check-in locations in Southern Taiwan. To protect the precious marble artworks and make them easier to clean, the museum director commissioned CHOOSE's professional construction team to conduct an assessment. 
Classic marble artworks are susceptible to discoloration problems
The Apollo Fountain and Olympus Bridge on the outdoor plaza of the Museum are some of the most popular photo spots. The Apollo Fountain in CHIMEI Museum, built by French artist Gills Perrault, is the same-scale replica of the original fountain in the Palace of Versailles constructed in the 17th century. It took a team of four countries—France, Switzerland, Italy, and Taiwan—six years to carve this fountain sculpture out of Carrara marble. However, water, oil and liquids can easily erode marble, creating hard-to-remove stains and affecting the stone permanently, not to mention the marble artworks that are always outdoors in the sun and rain 
Environmental factors make it harder to protect
CHIMEI Museum is located in the ancient capital of Tainan, a hot and humid place with high salt content in the air. The environmental factors cause marble artwork to discolor or develop unremovable stains on the surface. The Museum was quite troubled by this. They don't want the artworks to be so vulnerable to environmental damage, so they have been trying to solve this problem. 
ChOOSE perfectly solved CHIMEI Museum's annoyance
CHIMEI Museum learned from the Internet that CHOOSE has weather-resistant coatings for outdoor installation art. The high-performance transparent coatings can protect marble artworks from long-term exposure to sunlight and acid rain, and maintain its most flawless white appearance. In addition, the coatings take advantage of Taiwan's rainy climate. By creating nano-velvet on the marble surface, the outdoor sculptures acquire a certain self-cleaning effect. This helps the Museum save a lot of cleaning and maintenance costs.  
Solving Problems for Our Customers Is the Driving Force
CHOOSE has the most professional R&D teams and research facilities. After understanding our customers' needs, we will provide them with the best products and services. Solving problems for our customers is the fundamental reason why CHOOSE keeps making progress. 
CHOOSE provides great protection for the things you cherish by our transparent ceramic coatings.
If you want to know more information about our coatings, click on the link below and fill in the form. Our our service specialist will be in contact with you as soon as possible.