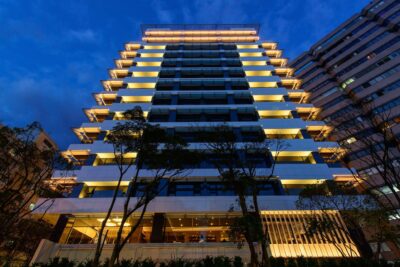 Objects placed outdoors are subject to corrosion due to acid rain, and metal items are susceptible to oxidation due to the humid and hot climate in Taiwan. When metal oxidizes, it not only affects the appearance but also creates metal debris that can cause safety concerns. Given that metal is an important building material, many constructors struggle with how to properly protect metal items. CHOOSE handled the case of a high-end residential building, Sanhui White House, located on Fuxing North Road in Songshan District. In less than six months after the house was completed and ready for sale, the metal canopy had corroded so badly that it was unmanageable. The constructor was very troubled by this.  
CHOOSE provide complete protection and save unnecessary expenses
The canopy of the Sanhui White House is made of metal. Metal parts have unique luster and strength properties. When they were first manufactured, they were coated with some industrial coatings for surface protection. However, the frequent rain and sun exposure caused the original protective layer to peel off, resulting in corrosion, oxidation, and other problems. This not only seriously affected the appearance but also gave a very bad impression to the clients who came to see the house. As a result, the constructor had to spend a lot of money to reinstall the canopy. He hoped that CHOOSE coatings could help protect the canopy from corroding again.  
CHOOSE protected the canopy from oxidation and corrosion
With CHOOSE building coatings, the canopy is protected from external environmental factors. For CHOOSE, giving our customers the best protection has always been the reason why we are so committed to research and development. The challenge of metal protection is that with the slightest contact with air, the surface would begin to oxidize and corrode, causing the metal to lose its luster. But CHOOSE coatings have passed the 1008 hours of salt spray test by SGS, proving that our coatings can protect metals for more than 42 days under the condition where oxidation can easily occur. If converted to protection in the natural environment, the protection effect can last for more than ten years, achieving once-and-for-all protection. That's why we were able to take on the case of Sanhui White House; we are confident that we can protect the canopy from corrosion problems. It has been a few years since the completion of the Sanhui White House. When we chatted with the constructor, he often told us how much he admired our technology because after the coating treatment, there were no more canopy corrosion problems.  
Solving problems is the driving force
CHOOSE has the most professional R&D teams and research facilities. After understanding our customers' needs, we will provide them with the best products and services. Solving problems for our customers is the fundamental reason why CHOOSE keeps making progress.