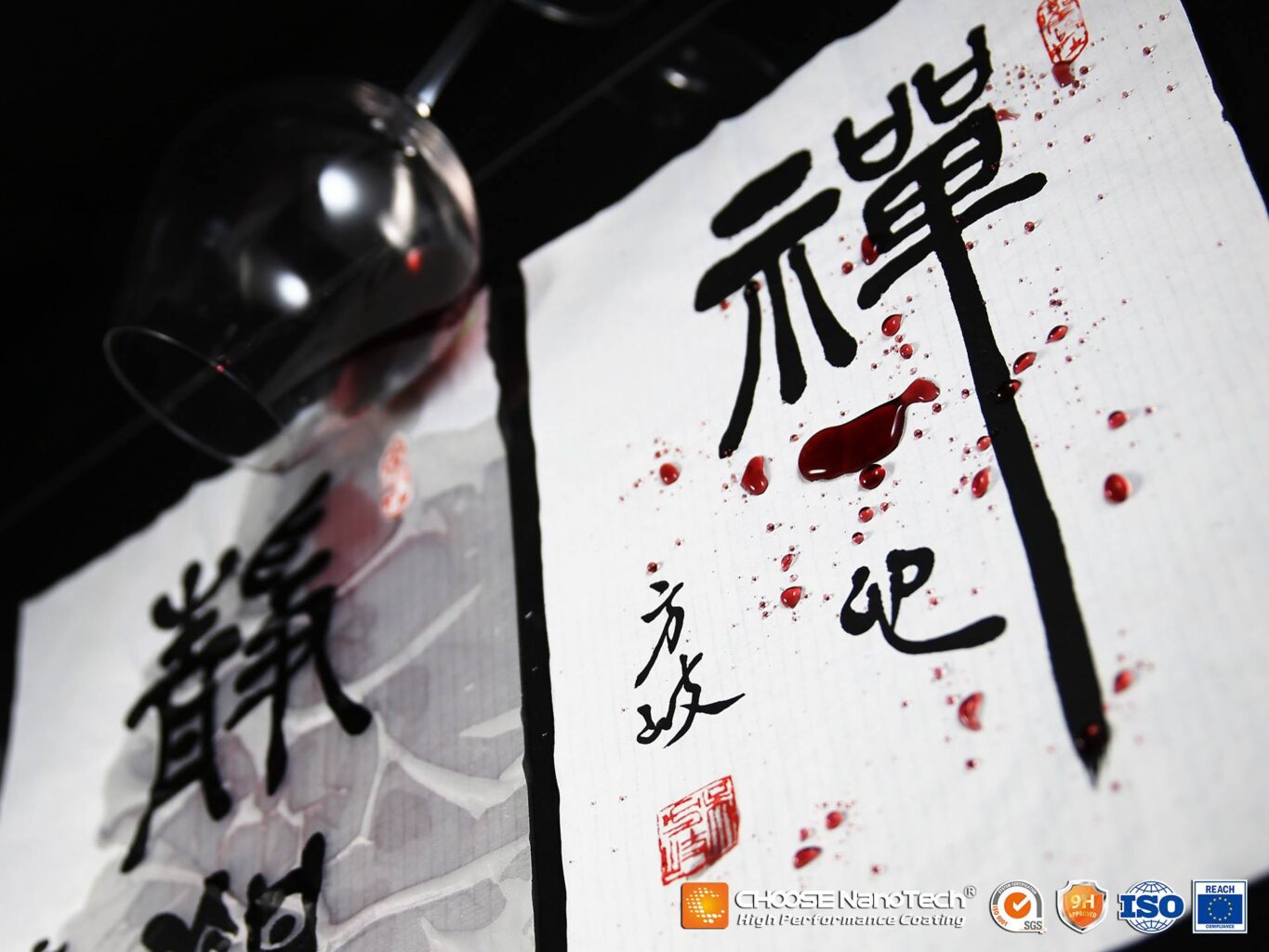 No matter what, every person wants to leave their footprint in this world. Calligraphy works are among the hardest to maintain. CHOOSE coatings for absorbing materials can reduce the hassle of calligraphy works maintenance.
PAPER'S ABSORBING NATURE MAKES IT HARD TO BE MAINTAINED
Calligraphy is hard to maintain not only because of the ink getting diluted but also the paper used is very thin and absorbent. The reason why so many people use paper for calligraphy and painting works is because of the unique effects created by its absorbing nature: by mastering the water absorption of each piece of paper you can draw the most satisfactory work. However, it is the absorbing nature that makes it hard to maintain.
THE CONVENIENCES OF COATING START FROM YOUR CLOSEST ONES
The opportunity of protecting calligraphy works came with a coworker's mother who usually does calligraphy works, and struggles to find a way of preserving it. Therefore, after knowing that our coatings can protect absorbing materials, she agreed to let us coat them. She hopes to have a more complete way of protecting her works.
STRONG PROTECTION WITH NATURALLY DRYING MAKES CHOOSE OUTSTANDING
CHOOSE uses all of our coating technologies to satisfy every customer's demand. This challenge of protecting calligraphy paper makes us very excited; other than having absorbent characteristics, its thickness also poses a test to our coatings which have to ensure that the paint and calligraphy do not faint after applying. CHOOSE's big difference on the market is that our coatings can quickly combine with molecules in the air at room temperature, forming an actual protective layer. This prevents water droplets and oil from contacting the substrate. Most importantly, the works do not get affected by the coating after applying, and they are always kept in the best state. It can be said that the coating of the calligraphy work was a success.
THE DEVELOPMENT OF REAL THICKNESS GIVES YOU THE MOST TRUSTED COATING EFFECT
 CHOOSE is never complacent with what has been achieved so far; our goal is to keep inventing new technologies and break coatings' limits of protection. We continue spurring CHOOSE's innovation to satisfy your personal choice.
CHOOSE provides great protection for the things you cherish by our transparent ceramic coatings.
If you want to know more information about our coatings, click on the link below and fill in the form. Our our service specialist will be in contact with you as soon as possible.