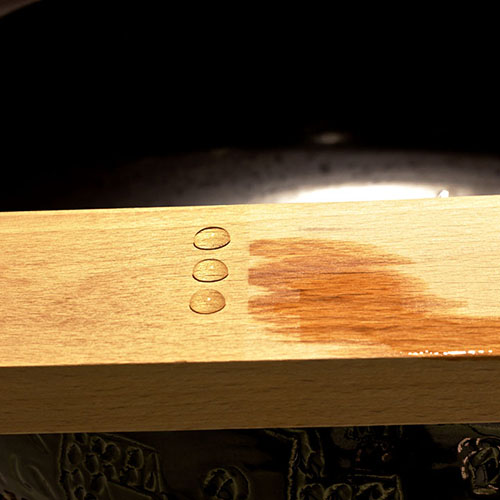 No matter if used for a floor, wall, or furniture, wood is usually the first choice for many home decorations. Nowadays, the wood decorations trend points to a minimalist style that maintains the original appearance of the material, which results in many restrictions for protective coatings.
How to provide proper protection for carefully selected furniture without changing the original appearance, has become a main concern for many consumers. CHOOSE NanoTech ceramic coatings not only provide wood the necessary waterproof effect, but also facilitate the cleaning, which will protect the precious wood from mold and decay.
The traditional coating dilemma: "efficiency or safety"
Currently, the most common protective coatings for wood are mainly divided into: water based paints and oil based paints. Both provide a certain degree of protection, but also a high number of problems. On one hand, the non-toxic water based paint offers wood a relatively weak protection which will not protect it from damage. On the other hand, the oil based paint provides excellent protection of the wood, but it creates concerns for health because of its chemical composition.
Third party certification to ensure quality and safety
In order to deliver consumers the: "safety and protection, I want them all!" package, CHOOSE NanoTech has developed professional coatings, SGS and EU REACH certified, specifically for wood. This means that in addition to the waterproof and stain-resistance effect, coated wood also guarantees complete safety in contact with high temperatures and no toxins will be released. This ensures that actions like cooking or enjoying a meal can be done with no safety concerns.
Practical experience is what makes CHOOSE so popular
With the usage of advanced technology, CHOOSE coatings will form a nano-level dense protective film on the substrate, allowing the furniture to maintain the original appearance and touch feeling at its most natural state. CeraLiv, CHOOSE residential coating brand, has also applied this technology to undertake a number of luxury mansions and apartments projects, and professional coating services for business premises. Even a simple restaurant wooden table deserves to be protected from moisture and oil, to provide a healthy and non-toxic dining environment, so that consumers can safely enjoy the carefully crafted atmosphere!
CHOOSE provides great protection for the things you cherish by our transparent ceramic coatings.
If you want to know more information about our coatings, click on the link below and fill in the form. Our our service specialist will be in contact with you as soon as possible.